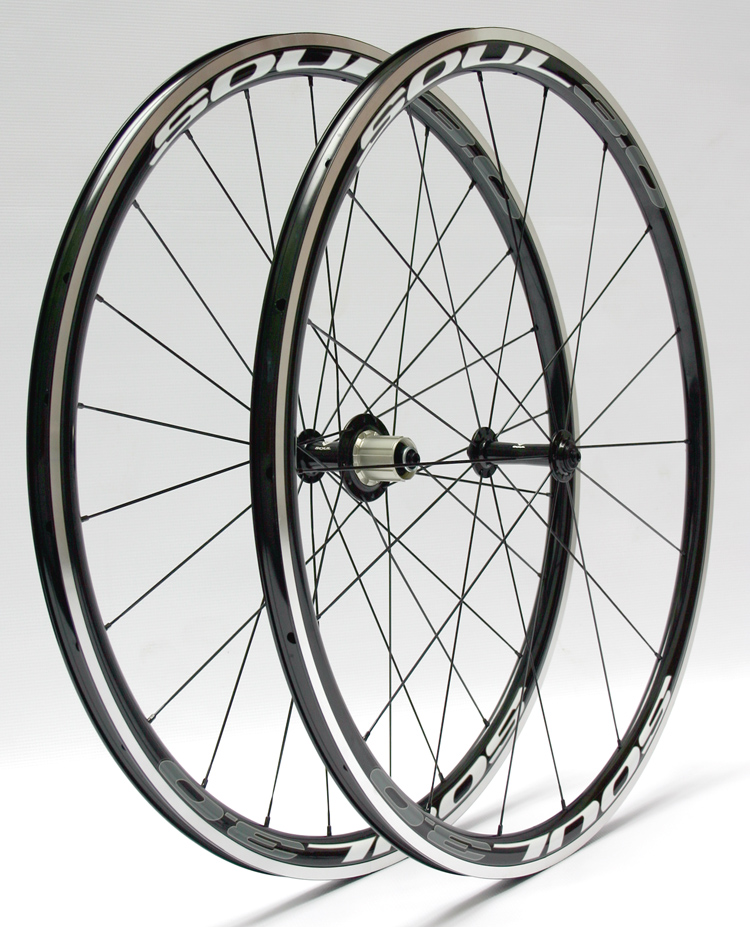 Rim Material: 6061 T6 Alloy
Rim Depth: 32mm
Rim Width:23mm
Bearings; Stainless steel, sealed.
Weight: 1550g without skewers
Spoke Count: 18/24
Tyres used: Continental Grand Prix Classic 4000. 25mm
In my research for the perfect all-rounder wheelset I had pinpointed the most likely contenders as being those with characteristics much like those displayed by this wheelset.
The required properties: low weight for climbing, moderately aero for descending but not so as to reduce speed of acceleration, alloy rims for braking in all conditions, and strength for power transfer. I'd also been keen to try out the hotly touted trend amongst the pros of using wider rims and to run 25mm tyres on them. This setup seemed ideal for the type of riding I do most: long, hilly rides in groups on variable road surfaces and in tropical weather.
I'd have to say that none of the price tags I came across were particularly alarming. This is not an expensive setup. Even the Zipp 101s were reasonable. The Rol
Race SL
seemed the most likely option for a while, until I came across these wheels on the recommendation of a friend. The big attraction here was of course....location: they're produced by a local company in Singapore. The specs however were exactly what I was looking for.
Soul
is the brainchild of Sean Wai, originating from the Malaysian capital city but now firmly resident in Singapore. Sean is a trained architect, but has followed his passion and skill for making things into building wheels, then frames. More recently he has created the company
MoVas
as an outlet for his passion for building watches, with a few classic mechanical designs as well as some really daring creations on the menu.
The hubs and rims are a Soul proprietary design and, though these are manufactured in Taiwan, the wheels are assembled by Sean and his team in Singapore. They come complete with bags and a set of skewers that so far have held out pretty well - no mean feat really; skewers are the weak link in most wheelsets I've bought, and invariably get replaced almost immediately by a good old trusty pair of Dura Ace. I'm still using these after 1000+km.
Anyway, on to THE RIDE.
The first thing I noticed was that these are very nicely free-rolling; the bearings are very smooth. The rear hub freewheel has a nice sound to it. Not a look-at-me Zipp-like sound, but somewhere between a Chris King buzz and a Campagnolo whirr.
It would be hard to give a truly fair comparison to the feel of other wheels since I'm running 25mm tyres at 100psi on these as opposed to 23mm at 120psi on the others. The difference of the tyres and pressure is very noticeable in the smoothness of the roll, and rougher surfaces no longer create quite the same bone-jarring effect, so from a feel point of view I'm sold on the 25s. One small issue is that the clearance to the fork crown and frame on my test bike is now pretty tight, so the smallest amount of grit or sand on the tyres create an audible scraping. It's not really a problem though, and on a frame with less of a race-geometry would not be an issue at all.
They look pretty mean from the side. I opted for the grey decals which give a more subtle, stealth effect, and the otherwise completely black components have a nicely understated aesthetic.
In the hills they feel very strong on the upward trajectories, and very quick to respond with a nice secure feel on the out-of-saddle surges. The feeling of having a few extra millimeters of contact with the road is very reassuring, and this of course is best felt on the downhills. This is probably their greatest strength: super-stability on technical descents.
They really plummet very well, with a great stiffness in the corners, and excellent braking facility. The extra contact with the road is very intoxicating, though it will take me a while to really develop the feel and confidence to push these babies to their max....but then I might have trouble going back to 23s!
Having now done some seriously long riding with a couple of sections in heavy rain, and some very wet descents (which felt about as secure as they ever will), I can't see myself riding anything else in these sort of conditions. They really do all I expected them to.
Just up and running is the wheelset comparison in my long-awaited
Wheelset Road Test
. I'm sure these will fare well with the numbers, though they may not win all categories. But bearing in mind I have some pretty good wheels already in my collection, the fact that these have overhauled the others for all the most technically challenging riding I do speaks volumes.
Road Test - Wheels